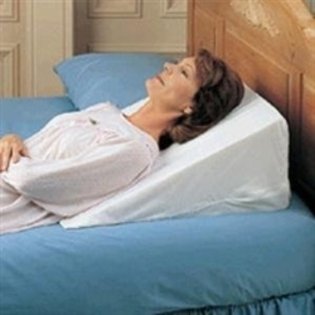 Foam Bed Wedge is comfortable and ideal for head, foot or leg elevation. Its gradual slope helps ease respiratory problems while reducing neck and shoulder pain. It comes with removable, zippered, machine washable polyester or cotton cover. View more
Benefits of a Foam Bed Wedge
Perfect to use while reading, watching TV or working on your electronic device in bed
Helps with recovery after surgery.
Improve blood circulation and less pressure on your back
Helps relieve respiratory problems, acid reflux, neck and shoulder pain, back pain and to minimize snoring.
Comfortable, gradual slope eases body aches and pains.
Foam Bed Wedge Features
Removable, zippered, machine washable polyester/cotton cover
Foam Bed Wedge is useful to improve circulation
Foam meets CAL 117 requirements
Latex free
Elevates your legs for better blood flow to the brain.
Easy to clean